Dear Friend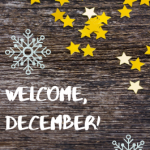 2019 has been a historic year for Citizens Union and none of it would be possible without you. Thank you!
 It began with a series of important victories in Albany, as the legislature passed a package of reforms to strengthen and protect the right to vote — reforms that Citizens Union had long advocated for. 
 We had victories when the Supreme Court eliminated President Trump's "Citizenship Question" from the 2020 Census. Also, Citizens Union led the successful challenge to overturn a state law requiring nonprofits to disclose the names of their donors. 
 This fall, New York City voters overwhelmingly voted to revise the City Charter and bring Ranked Choice Voting to city elections, and to increase oversight of the NYPD – more reforms long championed by Citizens Union.
 I hope that you are proud of these victories. They are as much yours as they are ours. Thank you for being with us as we fight to make government work for the people of New York. There are exciting things in store for 2020. Stay tuned!
As always, thank you for your support,

Betsy Gotbaum
Executive Director, Citizens Union/Citizens Union Foundation
---
State Campaign Finance Reform Update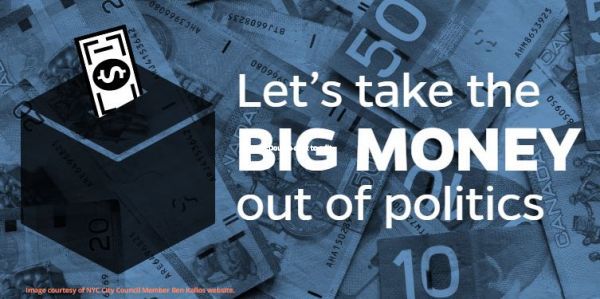 In September, CU testified before the State Campaign Finance Commission, advocating for reforms that would build a political system that is fair and open to all, and reduce the undue influence and corruption caused by unchecked campaign contributions. We called for a public matching funds program, limits on campaign contributions, and an independent oversight agency.
Unfortunately, the Commission has spent much of its time debating fusion voting, a serious distraction from the task with which they were charged. Individual contribution limits proposed by commissioners were much higher than those for city and federal elections, and regulations about contributions from people doing business with the state were scarcely discussed. We voiced our concern over the direction the Commission took, and have begun analyzing the final recommendations which were published last week. Stay tuned.
Early Voting Report and Next Steps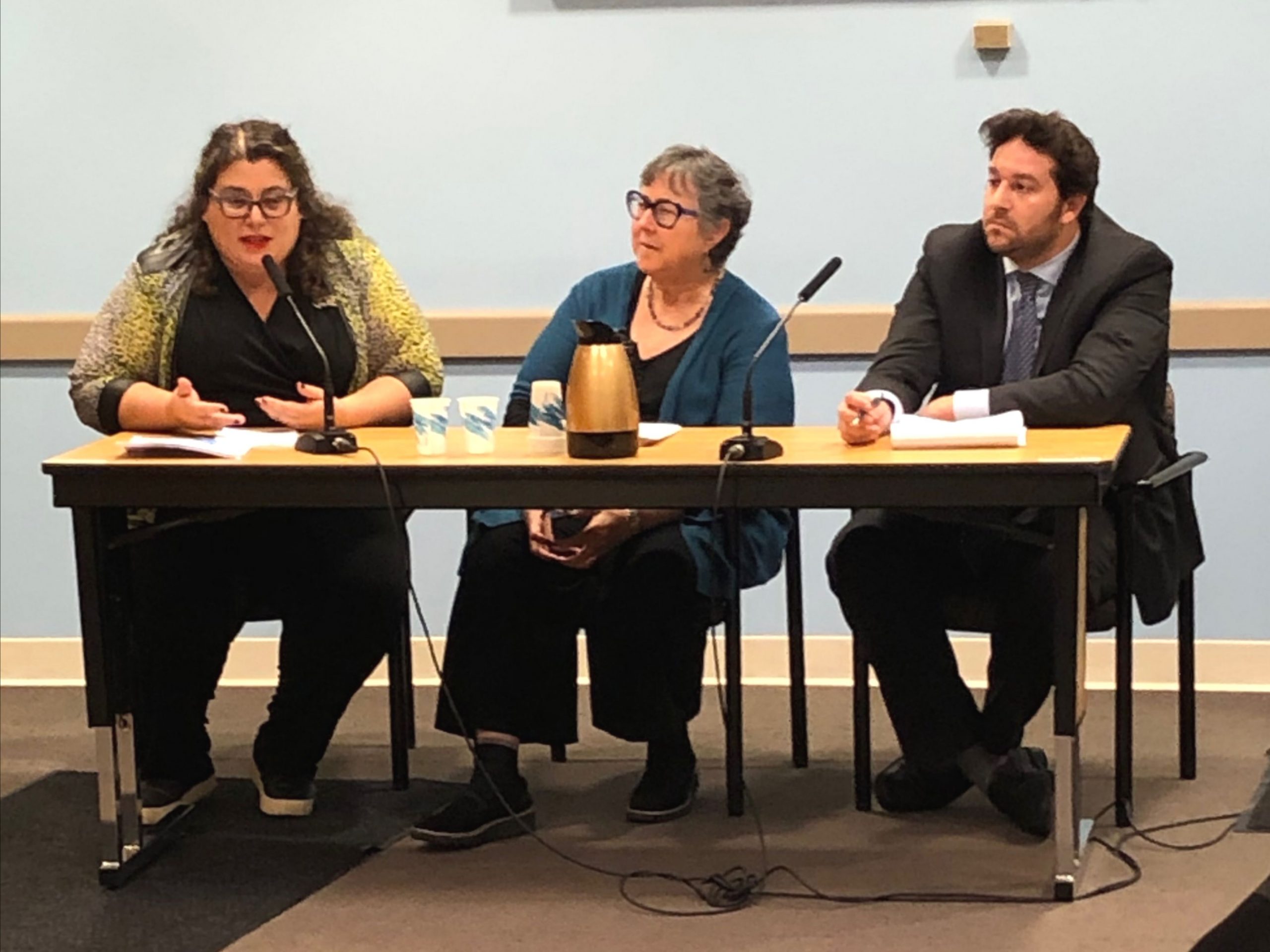 This fall, New York became the 38th state to enact early voting. Over a quarter-million voters statewide, including more than 60,000 in the five boroughs, took advantage of the extra time to cast their ballot, making up approximately eight percent of all votes cast. These are positive outcomes for early voting's first year, but there is room for improvement.
This month CU testified before the City Council and State Legislature about how to improve early voting. We advocated for more early voting sites in the City, and for voters to be able to vote early at any polling center in their borough.
We've seen the tremendous potential of early voting and hope we can build on this year's success by enacting these common sense changes to make participating in elections even more convenient for New York City voters.
---
2020 Focus – Civic Education Project
Thanks to the support of the New York Community Trust, our Civic Education and Engagement Project got off to a good start in 2019. As a reminder, the Project's goal is to create a more well-informed and collaborative ecosystem of civic learning in New York City. We have completed dozens of interviews and meetings to survey the models in use. We will draft a landscape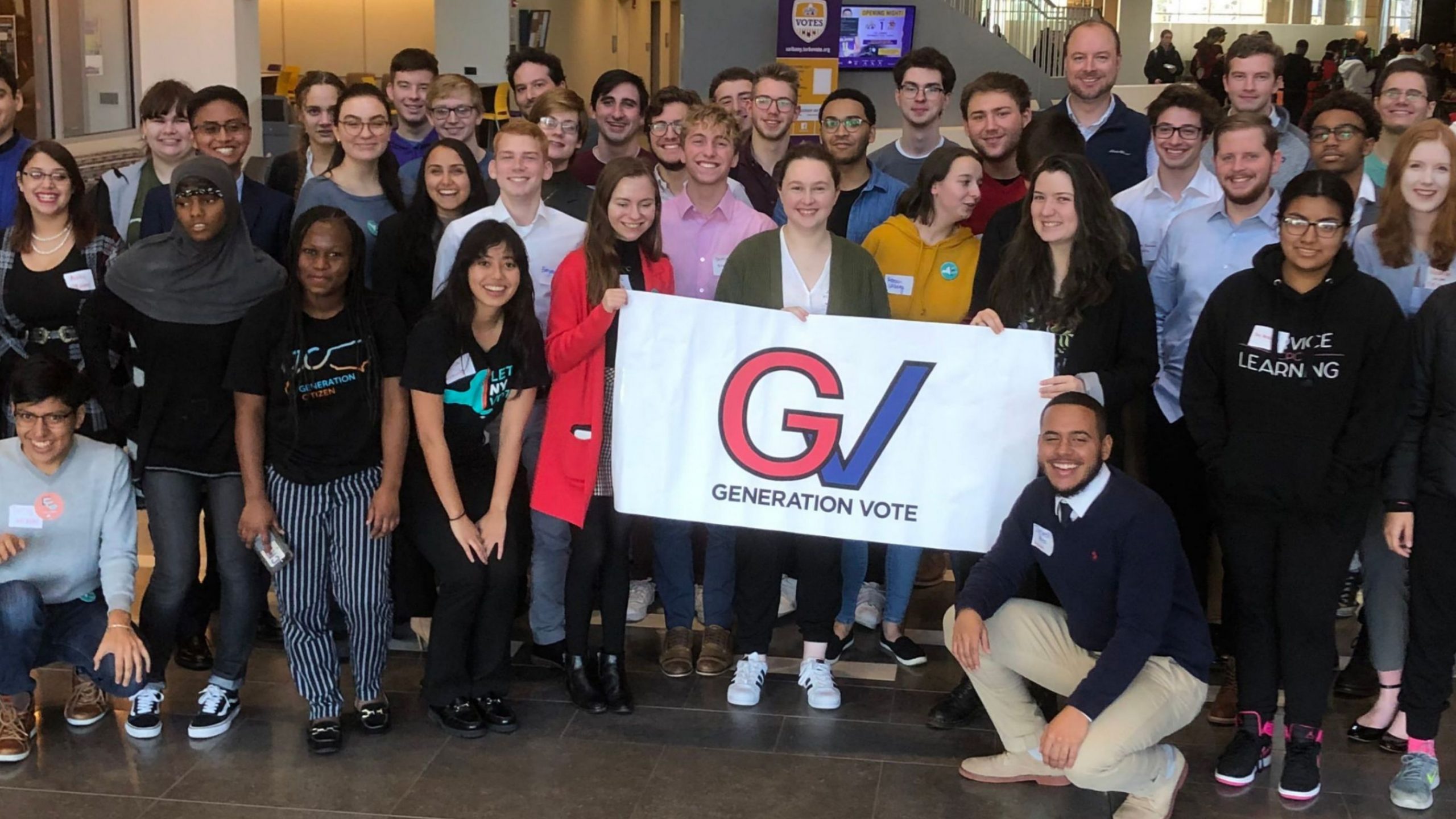 scan to show the different initiatives and groups involved with civic engagement work in New York City. We are also co-leaders of the Youth Working Group of the "Let New York Vote" coalition. This group works to create a network of engaged youth to fight for voter and election reforms. Lastly, we recently helped facilitate a Youth Voting Rights and Engagement Summit (see photo) organized by our partners in Generation Vote that was attended by more than 70 young New Yorkers. In 2020, with your support, we will complete our research, and with the help of Capstone teams from NYU and Columbia, evaluate our findings and share our report with the broader field of civics, to encourage information and resource sharing and provide a helpful tool for practitioners and policymakers .
Save The Date – Give Back on December 3rd
Join the Movement and Give Back!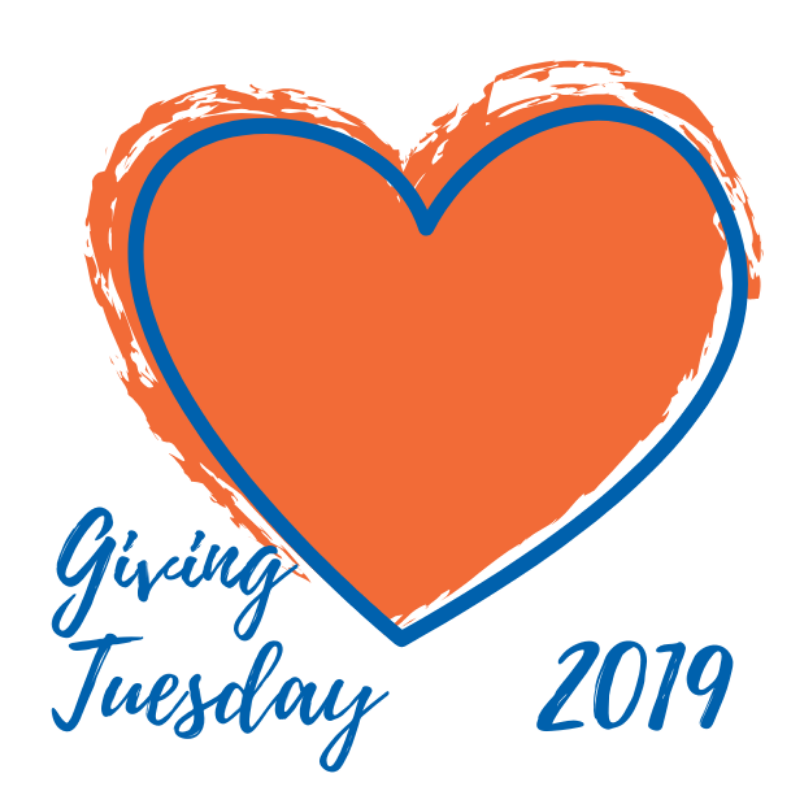 Giving Tuesday is a global generosity movement unleashing the power of people and organizations to transform their communities and the world on December 3, 2019 and every day. Save the Date and be sure to make a gift to Citizens Union Foundation to support our public education and policy research; Citizens Union to support our candidate evaluation and legislative advocacy priorities; or Gotham Gazette to support our hard-hitting reporting on New York City and State government and politics!
CU in the News – Best Clips of 2019
---
Thank You to Our Supporters!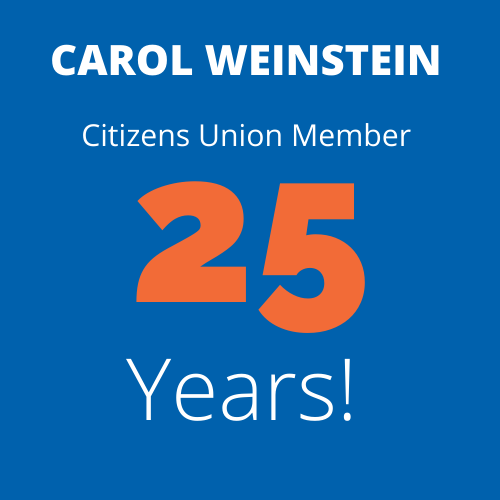 Carol Weinstein has been a member of Citizens Union for 25 years! A teacher and active member of her community, she joined CU in 1994 because "CU is an organization that allowed its members to participate in policy creation and the evaluation of the candidates it endorsed". Carol believes in the strength of CU specifically in our efforts to expose corruption in the state. She shared that she believed that CU was at the forefront of blowing the whistle on Sheldon Silver, and that "without CU's efforts it would not have been brought to light". An avid reader of Gotham Gazette, Carol finds the reporting to be crucial to learning what is really going on in New York's government and politics – information she cannot find elsewhere. Some of her favorite memories of CU are joining civic conversations about education and hearing CU push for input from not only parents of students but the teachers, too. We thank Carol for her 25 years of loyal support of CU and her contributions to public service and her community! Thank you, Carol!
Be like Carol, and join CU and subscribe to Gotham Gazette, today!
---
Get Involved!
Learn More HERE. Join us and support our work with a donation HERE. Follow us on Facebook and Twitter, and like, comment and share our content!