Citizens Union and Citizens Union Foundation are committed to reforming New York City and State government by fostering accountability, accessibility, transparency, honesty and the highest ethical standards. Always nonpartisan, since 1897, we have devoted ourselves to holding our government accountable and the enfranchisement of all New Yorkers.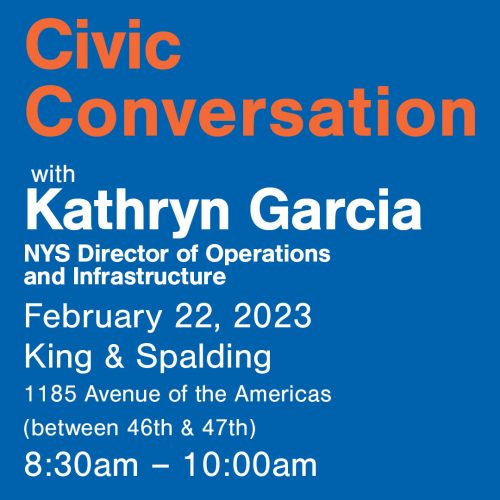 Our Most Recent Press Releases
Statement from Citizens Union on Governor Kathy Hochul's FY24 Executive Budget
Citizens Union has issued to following statement from executive director Betsy Gotbaum in response to Governor Kathy Hochul's FY2024 executive budget, which was released earlier today
Citizens Union Calls on New York City to Move Municipal Elections to Even-Numbered Years
Citizens Union issued a report outlining the benefits of moving New York City's municipal elections to even-numbered years. This move would bring elections for city offices in line with gubernatorial or presidential elections. Municipal elections in New York City, which are currently held in odd-numbered years, have consistently seen lower voter turnout than elections held in even-numbered years. Consolidating municipal elections with presidential or gubernatorial elections will increase voter turnout, giving more New Yorkers a say over who governs them at the local level.
Statement from Citizens Union on the Nomination Process of the Chief Judge of the New York Court of Appeals
Citizens Union has issued to following statement from Board Chair Randy Mastro in response to the recent nomination process of a Chief Judge of the New York Court of Appeals
Citizens Union Responds to Senate Passage of Legislation to Reform the Operations of New York's Local Boards of Elections
Citizens Union releases the following statement from Executive Director Betsy Gotbaum following the passage of a package of legislation to reform the operations of New York's local boards of elections by expanding voting rights and reforming our election system.
Watchdog Groups Oppose Legislative Pay Raise Bill
Legislative leaders introduced a bill late last night giving hefty raises to the next state legislature. The leaders are proposing base salaries of $142,000 starting January 1, 2023, with a limit on outside income of $35,000 beginning in 2025 (about 25% of the increased salary).
Transparency and Disability Groups Ask Legislature for Open Meetings Webcasting Rules
Citizens Union joined more than a dozen transparency and disability groups in calling the legislative leaders pass new rules that ensure that all public meetings in the Legislature are webcast. Due to changes in the Open Meetings Law (OML) approved by the Legislature in April, if the Senate and Assembly intend to use videoconferencing to allow members to participate remotely in public meetings, they must adopt a one-time joint resolution after a public hearing to authorize videoconferencing.
Advocacy Groups Respond to New York State Public Campaign Finance Board Budget Request for FY 2023–2024
The New York State Public Campaign Finance Board voted on its budget request for FY 2023–2024. The board's commissioners approved a request totaling $114.5 million, including $100 million for future matching funds for participating campaigns and $14.5 million for program administration.
Good Government Groups: No Pay Raise Without a Real Ban and Cap on Outside Income
Iin response to news about a possible pay raise for lawmakers, Citizens Union joined Common Cause/NY, League of Women Voters of NYS, NY Public Interest Research Group, and Reinvent Albany penned a letter to legislative leaders in Albany demanding any raise come with a ban on income earned through certain professions and a cap of up to 15% on certain permissible outside incomes. This request follows the same guidelines Congressional members use.
Citizens Union, other good government groups demand Council hold hearings to vet Board of Elections nominee
Citizens Union, Common Cause NY, the League of Women Voters of the City of New York, NYPIRG and Reinvent Albany have sent a letter to NYC Council Speaker Adrienne Adams and Majority Leader and Rules Committee Chair Keith Powers, calling on the Council to hold a public confirmation hearing for the New York County Democratic nominee for Commissioner of Elections and take transparent measures that would vet the nominee's experience and fitness to administer elections.