| | | |
| --- | --- | --- |
| June 2006 | Engaging New Yorkers to Reform Government | Vol. 1, Issue 2 |
| | | |
IN THIS ISSUE

About Citizens Union and Citizens Union Foundation

Citizens Union of the City of New York is an independent, non partisan force dedicated to promoting good government and political reform in the city and state of New York. For more than a century, Citizens Union has served as a watchdog for the public interest and an advocate for the common good. We work to ensure fair elections, clean campaigns, and open, effective government that is accountable to the citizens of New York. We do so by informing the policy debate and influencing the policy outcomes that affect the lives of all New Yorkers. Believing that an informed citizenry is the cornerstone of a thriving local democracy, Citizens Union Foundation – the non profit research, education, and advocacy organization affiliated with CU – publishes Gotham Gazette, a front row seat to New York City policies and politics.
Welcome from Dick Dadey, Executive Director
Welcome to the June issue of THE REFORMER, our new e-newsletter for Citizen Union members and Citizens Union Foundation contributors. It is gratifying to report that in the last month the City Council and Mayor have enacted significant local lobbying reforms championed by Citizens Union. You can learn more about this as well as our many other recent activities in this newsletter and on our website.
Please help spread the word about our efforts by forwarding this newsletter to your friends and colleagues using the 'Email a Friend' link. Also, if you are getting this newsletter and are not a Citizens Union member (or have lapsed in your support), please sign up to support the oldest, active good government organization in the City and help us bring greater political reform to New York.
CITY UPDATES
Historic Lobbying Reform Bills Pass City Council
The New York City Council in late May passed a package of lobbying reform bills that were jointly proposed by Speaker Christine Quinn and Mayor Michael Bloomberg. These measures, which had the support of Citizens Union and our colleagues in the good government community, are historic pieces of legislation designed to ensure that New York City does not fall victim to the scandals that have surfaced at the federal level in relation to the influence of lobbyists over the political process. The bills will shield New York City government from Jack Abramoff-like influence-peddling that has compounded the public's distrust of the political system.
The bills provide for:
greater disclosure of the activities of those who attempt to influence decision-making in New York City,
stronger enforcement powers for the City Clerk to monitor the activities of lobbyists,
increased penalties should a lobbyist break the law,
prohibition of gifts from lobbyists to public servants,
requirement for lobbyists to report compensation they receive for political consulting services,
prohibition of public matching funds from the City's campaign finance program on contributions from lobbyists or someone affiliated with a lobbyist.
While Citizens Union believes the ability to lobby legislators is an important part of our democratic system, we also believe it is imperative that we ensure that all New Yorkers have the opportunity to have their voices heard and that undue influence does not impede the voice of average New Yorkers. The legislation is a very positive step in that direction. We are encouraged by the proactive approach of the Council and the Administration and the leadership exercised by Speaker Quinn and Mayor Bloomberg. CU looks forward to working to ensure the new system works effectively, and is committed to seeking further improvements down the road.
CU Testifies on Elected Officials' Compensation
On June 1st, Dick Dadey testified before the Advisory Commission for the Review of Compensation Levels of Elected Officials. Citizens Union's position posits that:
The bills provide for:
The compensation for all elected city officials should be modestly increased, especially because no increase has been provided since 1999. Our elected officials should also not be unfairly penalized because no Compensation Commission was appointed in 2003, as was required by law.
District Attorneys should receive a more substantial increase because they work in the legal profession and several senior assistant district attorneys are receiving more than their elected bosses.
The Commission should require the elimination of any stipends but for the top leadership positions as part of any recommendation to substantially increase the compensation of Council Members.
The Mayor should convene a legally required Compensation Commission in 2007 not only to restore the quadrennial cycle of elected official compensation review, but also address whether the office of Council Member should still be defined as a "part time position," and if so, what restrictions, if any, should be placed on the earning of outside income. We would also ask that the 2007 commission review whether compensation increases taking place in the future should occur only at the start of the next term in office.
To read the full testimony, click here.
STATE UPDATES
Douglas Israel, Citizens Union's Director of Public Policy and Advocacy, with broom, center along side Common Cause's Rachel Leon.
Reform New York Lobby Day A Success
On May 9th, Citizens Union joined with over thirty civic groups, including Common Cause and NYPIRG, and hundreds of activists from across the state to call for governmental reform. The 2006 Reform New York Lobby Day marked the second annual pilgrimage to Albany, where reform minded New Yorkers made their case for a more transparent, accountable and democratic state government. Many legislative leaders were in attendance; Assembly Speaker Sheldon Silver and Assembly Minority Leader James Tedisco, Senate Minority Leader and Candidate for Lieutenant Governor David Paterson and Gubernatorial Candidate Tom Suozzi spoke before the group.
Building on the success of last year's efforts, the group advocated five key issues to be addressed in the 2006 legislative session:
Redistricting Bill Picks Up Senate Sponsor and Assembly to Hold Hearings
Fed up with uncompetitive elections and decades of stagnant government, New Yorkers want to change the system that entrenches elected officials and the status quo. Citizens Union and Citizens Union Foundation have made redistricting reform their top priority. Thanks in part to our work, a bipartisan effort is emerging and all four gubernatorial candidates have committed to these important reforms in one way or another.
Last month, Senator Nick Spano (R-Westchester) introduced a legislative redistricting reform bill into the Senate. This bill S7855 is the companion to A6287, introduced by Assemblymember Michael Gianaris (D-Queens) last year, and would establish an independent commission to draw the lines for senate, assembly and congressional districts. Citizens Union applauds Senator Spano, Assemblymember Gianaris and their cosponsors for their leadership in improving the legislature from within. Sandy Galef (D-Westchester) has also introduced a bill, which recently introduced into the senate by John Bonacic (R-Mount Hope) and would reform the process through a constitutional amendment.
In a surprising and encouraging move, the Assembly announced plans to hold hearings on redistricting this summer. For their newsrelease, click here.
On the heels of our successful symposium on redistricting and competitive elections, Citizens Union Foundation will continue to advance the issue of redistricting through public education, collaboration with other civic and voting rights groups, and the publication of a research report.
CU Files Amicus Brief on Judicial Selection
Citizens Union on May 17th filed an amicus brief in the Second Circuit, U.S. Court of Appeals in support of District Court Judge John Gleeson's ruling, which declared judicial nominating conventions for New York State Supreme Court justices unconstitutional. Citizens Union supported Judge Gleeson's decision that nominating conventions are scripted events controlled by party leaders to ensure their favored candidates win the nomination, and that immediate reforms are necessary.
Judge Gleeson called on the state legislature to devise a proper remedy to ensure an independent judiciary and the right of voters to nominate party candidates. In the interim, Judge Gleeson called for direct primary election for Supreme Court, a position that Citizens Union argues is but one of several possible remedies that should be explored.
Citizens Union believes that alternative interim measures did not receive an adequate hearing, and, based on a history of inaction in Albany, we could reasonably expect that direct primaries will become the default mechanism for years to come. The organization was less than comfortable with the notion of Supreme Court candidates partaking in primary elections that require vigorous fundraising and campaigning, both activities that undermine the independence of the judiciary. While Citizens Union did not describe what an appropriate remedy would be, the organization has long held that justices should be selected through a merit based appointment selection process. Click here to view Citizens Union amicus. (PDF format)
Who is Citizens Union?
Richard J. Davis, Board Chair
This is the first in a series of profiles of civic leaders among Citizens Union's board of directors and members.
Richard J. Davis is chair of both Citizens Union and Citizens Union Foundation and has been a member of the CU board since 1991. Under his leadership, the organizations have enjoyed renewed prominence and begun to affect the outcome of issues on which it releases position statements, continuing a trend started under former chair, Ogden Lewis.
Mr. Davis is a partner in the law firm of Weil Gotshal & Manges, LLP. He specializes in litigation and white collar crime, negotiating complex settlements and counseling major corporations in the conduct of internal investigations and in grand jury, regulatory and other government investigations.
He has served the public in numerous roles and capacities including as assistant secretary of the Treasury supervising the US Customs Service, the Bureau of Alcohol, Tobacco and Firearms, the US Secret Service, the Federal Law Enforcement Training Center and the Office of Foreign Assets Control, as a member of the Watergate Special Prosecution Force, as a member of the Criminal Division of the United States Attorney's Office (Southern District of New York), as the chairman of the Mayor Giuliani's Commission to Combat Police Corruption, as a member of the Mayor's Task Force on Police-Community Relations, and as a member of the Citizens Task Force on Use and Security of Central Park. Mr. Davis also serves as Chair of the Randalls Island Sports Foundation.
A life long New Yorker, Richard Davis is a true civic leader who has helped to make our city a safer, fairer and more livable place.
Gotham Gazette
Citizens Union Foundation's Gotham Gazette, a Web site of New York City news and policy, is growing as fast as the Internet! When you "google" New York City politics, there are over 100 million results — more than double the number of a year ago — but this year and last year Gotham Gazette is the first result for this and many other searches. Our daily enews blast, The Eye-Opener, has recently enrolled its 10,000th subscriber. Have you subscribed? To sign up for this informative, valuable and timely resource click here.
Here are some recent highlights of our independent and user friendly coverage: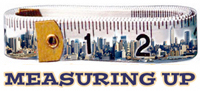 This week Gotham Gazette has launched a new section,
Measuring Up, which focuses on measuring city government's performance. Officially called "performance assessment," this new approach to government accountability compiles, analyzes and interprets statistics in order to spot trends, gaps and overlaps in city services. Our coverage on this issue is made possible by a grant from the Alfred P. Sloan Foundation.
Gotham Gazette hosts two blogs,
The Wonkster, which brings together the views and spews of editorialists, bloggers and other unsavory opinionated New Yorkers, and
Albany Matters, a blog about issues in New York State government and how they impact the city.
EVENTS
Annual Members Meeting
Philip K. Howard, will address the 2006 Citizens Union Annual Members Meeting, taking place on June 20th from 5:30:-7:00pm. He will speak on "Finding the Common Good: A New Approach to Reforming Government." This event is open to Citizens Union Members. For more information and to rsvp click here.
Annual Dinner Honorees
Citizens Union will hold its Annual Awards Dinner on Tuesday, October 24th, at the Waldorf=Astoria Hotel. An announcement about our honorees and dinner details is forthcoming.
Join Citizens Union
By joining your voice adds to our cause. Your participation amplifies the chorus of voices speaking out for our reform efforts in state and local government, raising our profile and helping our message resonate with policymakers, the press and the public. Citizens Union relies on the support of its members for funding and involvement.
To engage and involve younger members, Citizens Union launched its Reform Leaders membership campaign last month and is organizing more ways to involve this new crop of members in the work of the organization. Click here to learn more.
Citizens Union In the News