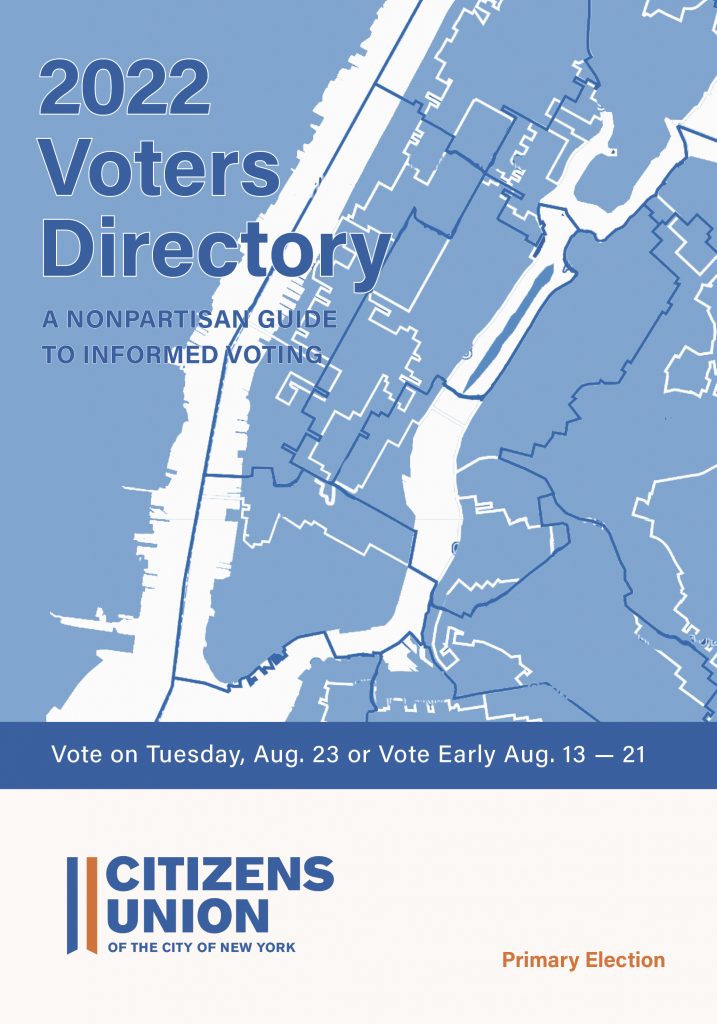 Welcome to the Citizens Union 2022 Primary Voters Directory! Download the pdf here
In a split primary election season spanning multiple months and several redistricting plans, Citizens Union has evaluated 40 candidates in 14 races for New York Governor, State Senate, and State Assembly to determine who strongly supports our issues, can advance a reform agenda, and can best fulfill the obligations of the position.
To help our supportive members prepare to vote, Citizens Union has been publishing an annual Voters Directory for over a century. This year, a court decision led to two separate primary elections in New York: a June primary for statewide offices, State Assembly, Judges, and Party Positions, and an August primary for the U.S. House of Representatives and State Senate. This Voters Directory is published before the August primary, but includes all preferences issued by Citizens Union in the 2022 Primary election. 
Download the Voters Directory Here.
Read our press release here.
Our past preference and endorsement decisions are also available.
To find out when & where to vote and see who will be on your ballot, go to Who'sOnTheBallot.org.
CANDIDATE EVALUATIONS
New York State Governor 
Democratic Primary for Governor – Kathy Hochul preferred over Tom Suozzi and Jumaane Williams.
Republican Primary for Governor – Harry Wilson preferred over Rob Astorino, Andrew Giuliani, and Lee Zeldin.
The Bronx
Senate District 33 – Gustavo Rivera preferred over Miguelina Camilo
Van Nest, Riverdale, Fieldston, Spuyten Duyvil, Bedford Park, Fordham, Belmont, Morris Park, Norwood
Senate District 34 – Nathalia Fernandez preferred over Christian Amato and John Perez
Parkchester, Clason Point, Castle Hill, Schuylerville, Throggs Neck, Silver Beach, Edgewater Park, Country Club, Middletown, Morris Park, Pelham, City Island
Brooklyn
Senate District 21 – Kevin Parker preferred over David Alexis and Kaegen Mays-Williams
Flatbush, East Flatbush, Ditmas Park, Flatlands, Marine Park, Bergen Beach
Senate District 26 – Andrew Gounardes preferred over David Yassky
DUMBO, Downtown Brooklyn, Brooklyn Heights, parts of Forts Green and Park Slope, Gowanus, Carroll Gardens, Red Hook, South Slope, Sunset Park, Bay Ridge, Fort Hamilton, parts of Dyker Heights, and Governors Island
Manhattan
Senate District 27 – Brian Kavanagh preferred over Danyela Souza Egorov and Vittoria Fariello
East Village, West Village, Alphabet City, Lower East Side, Financial District, SoHo, Tribeca, Chinatown, FiDi, Battery Park City
Senate District 30 – Cordell Cleare preferred over Shana Harmongoff
Harlem, parts of East Harlem, parts of the Upper West Side, Morningside Heights and Hamilton Heights
Assembly District 65 – Grace Lee preferred over Illapa Sairitupac, Denny Salas, and Alana Sivin.
Financial District, Chinatown, Lower East Side, Little Italy, Two Bridges, Nolita, East Village
Assembly District 73 – No preference in the contest between Alex Bores, Kellie Leeson, Adam E. Roberts, and Russel Squire.
Upper East Side, Midtown East, Turtle Bay, Sutton Place, Murray Hill
Assembly District 75 – Christopher LeBron preferred over Layla Law-Gisiko, Lowell D. Kern, Harrison Douglas Marks, and Tony Simone.
Chelsea, Parts of Koreatown & Flatiron District, Theater District, Midtown Manhattan, Columbus Circle
Queens
Senate District 59 – Elizabeth Crowley preferred over Kristen Gonzalez, Nomiki Konst, Michael Corbett, and Francoise Olivas
Queens/Brooklyn/Manhattan: Astoria, Queensbridge, Dutch Kills, Long Island City, Hunters Point, Greenpoint, Kips Bay, Tudor City, Gramercy, Stuy-town and Cooper Village
Assembly District 37 – Brent O'Leary preferred over Juan Ardila, Johanna Carmona, and James (Jim) Magee.
Hunters Point, Long Island City, Court Square, Sunnyside, Blissville, Maspeth, Ridgewood, Fresh Pond
Staten Island
Senate District 23 – Jessica Scarcella-Spanton preferred over Sarah Blas, Bianca Rajpersaud, and Rajiv Gowda
Staten Island/Brooklyn: North Shore of Staten Island, Coney Island, Brighton Beach, Manhattan Beach, Fort Hamilton Army Base
ACKNOWLEDGMENTS 
This Voters Directory would not be possible without the hard work of members of the Citizens Union Board, Local Candidates Committee (LCC), staff and interns. 30 volunteer LCC members, 6 interns, and staff members formed nonpartisan interview teams and evaluated 40 candidates in 14 races for New York Governor, State Senate, and State Assembly. We thank them for contributing their time, energy, and expertise to interviewing and evaluating candidates. We thank you for your support, and hope you enjoy the latest edition of the Voters Directory.