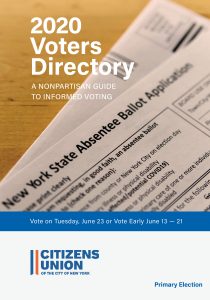 Welcome to the Citizens Union 2020 Primary Voters Directory! Download the pdf here
In this unprecedented election cycle, during a city, state, and national state of emergency, Citizens Union has evaluated 30 candidates in 13 races for state Senate and Assembly, as well as Queens Borough President, to determine who strongly supports our issues, can advance a reform agenda, and can best fulfill the obligations of the position.
See our candidate evaluations and preferences here.
See candidates' answers to Citizens Union's questionnaire here.
To help our supportive members prepare to vote, Citizens Union has been publishing an annual Voters Directory for over a century. The current edition provides an overview of the 2020 Primary Election, including voting and registration information and listings of every contest for all races that will be on the ballot in New York City this June. It also includes a roster of Citizens Union's preferred candidates in several key races, and information about the rigorous evaluation process and assessments of candidates.
For the first time in over 100 years, the evaluation process was conducted entirely online. Due to the threat of the COVID-19 pandemic and NYS PAUSE, all interviews and meetings were held by video conference.
To learn more about our evaluation principles and process, click here. 
Our past preference and endorsement decisions are also available.
For voting, registration, and absentee voting information, click here.
For a summary of the reform agenda in the last legislative session, click here.
Download the Voters Directory Here.
Bronx Democratic Primaries
Assembly District 79 – Elvis Santana preferred over George Alvarez, Cynthia L. Cox, Chantel Jackson, Dion Powell, and Eric Stevenson.
High Bridge, Concourse, South Bronx, Melrose, Mott Haven
Assembly District 81 – Jeffery Dinowitz preferred over George Diaz.
Kingsbridge, Norwood, Riverdale, Van Cortlandt Village, Wakefield, and Woodlawn
Brooklyn Democratic Primaries
Senate District 25 – Jason Salmon preferred over Jabari Brisport and Tremaine Wright.
Boerum Hill, Clinton Hill, Crown Heights, Fort Greene, Bed-Stuy, Red Hook
Assembly District 50 – Emily Gallagher preferred over Joseph Lentol.
Greenpoint, Williamsburg, and Fort Greene
Assembly District 51  – No preference in the contest between Génesis Aquino, Marcela Mitaynes, Felix Ortiz, and Katherine Walsh.
Red Hook, Sunset Park, parts of Carroll Gardens, Bay Ridge, and Park Slope
Assembly District 56 – Justin Cohen preferred over Stefani Zinerman.
Bedford-Stuyvesant, Northern Crown Heights
Manhattan Democratic Primaries
Assembly District 65 – Yuh-Line Niou preferred over Grace Lee.
Chinatown, the Lower East Side, Financial District, Tribeca, East Village, and SoHo
Assembly District 68 – Robert J. Rodriguez preferred over Tamika Mapp.
East Harlem, El Barrio, Randalls, and Wards Island
Assembly District 73 – No preference in the contest between Cameron Koffman and Dan Quart.
Upper East Side, Midtown East, Turtle Bay, and Sutton Place
Queens Democratic Primaries
Queens Borough President – Donovan Richards preferred over Costa Constantinides, Elizabeth Crowley, Anthony Miranda, and Dao Yin.
Assembly District 31 – Khaleel Anderson preferred over Richard David, Lisa George, Shea Uzoigwe, Derrick DeFlorimonte, and Tavia Blakley.
Laurelton, Springfield Gardens, Brookville, Rosedale, Far Rockaway, Bayswater, Edgemere, Somerville, Arverne, and Hammels
Assembly District 34 – Jessica González-Rojas preferred over Joy Chowdhury, Nuala O'Doherty Naranjo, Michael DenDekker, Angel Cruz.
Corona, East Elmhurst, Jackson Heights, and Woodside
Assembly District 36 – Aravella Simotas preferred over Zohran Mamdani.
Astoria, Ditmars Steinway, and Woodside
Assembly District 38 – Jenifer Rajkumar preferred over Joey De Jesus and Michael Miller.
Woodhaven, Ridgewood, Richmond Hill, Ozone Park, and Glendale
ACKNOWLEDGMENTS 
This Voters Directory would not be possible without the hard work of members of the Citizens Union Board, Local Candidates Committee (LCC), staff and interns. 30 volunteer LCC members, 7 interns, and staff members formed nonpartisan interview teams and evaluated 30 candidates in 13 races for state Senate and Assembly. We thank them for contributing their time, energy, and expertise to interviewing and evaluating candidates, especially during this challenging moment. We thank you for your support, and hope you enjoy the latest edition of the Voters Directory.