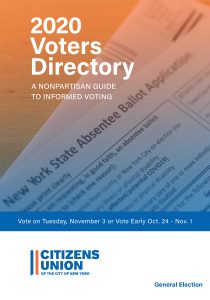 Welcome to the Citizens Union 2020 General Election Voters Directory! Download the pdf here
This fall, New Yorkers will vote in the general election for New York State Legislature, Queens Borough President, as well as for federal and judicial positions. To help our supportive Citizens Union members prepare to vote, Citizens Union has been publishing an annual Voters Directory for over a century. The current edition provides an overview of the 2020 general elections, including voting and registration information and listings of every contest for all races that will be on the ballot in New York City this fall. It also includes a roster of Citizens Union's endorsed candidates in several key races, and information about the rigorous evaluation process and assessments of candidates.
See our candidate evaluations and preferences here.
Citizens Union has evaluated 4 races for state Senate and Assembly to determine what candidates strongly support our issues, can advance a reform agenda, and can best fulfill the obligations of the position. Interview teams made up of Local Candidates Committee members assessed the candidates based on their responses to Citizens Union's questionnaire, independent research, first-hand knowledge of the candidates, and interviews with the candidates. 
Due to the threat of the COVID-19 pandemic and the current state of emergency, the evaluation process was conducted entirely online. All interviews and meetings were held by video conference.
This year, for the first time in the organization's history, Citizens Union also evaluated the Presidential election.
To learn more about our evaluation principles and process, click here. 
To see our Primary Election Voters Directory, click here. Our past preference and endorsement decisions are also available.
For voting, registration, and absentee voting information, click here.
Download the Voters Download the Voters Directory here.
President of the United States – Joseph R. Biden / Kamala B. Harris (D, WFP) endorsed over Donald J. Trump / Michael R. Pence (R, C), Howie Hawkins / Angela Nicole Walker (G), Jo Jorgensen / Jeremy Cohen (L), and Brock Pierce / Karla Ballard (I).
Senate District 22 – Andrew Gounardes (D, WFP, SAM) endorsed over Vito Bruno (R, C, I)
Brooklyn: Bay Ridge, Dyker Heights, Bentonhurst, Marine Park, and parts of Sheepshead Bay and Midwood
Assembly District 46 – Mathylde Frontus (D) endorsed over Mark Szuszkiewicz (R, C)
Brooklyn: Coney Island and Sea Gate, as well as parts of Bath Beach, Bay Ridge, Brighton Beach, Dyker Heights and Gravesend
Assembly District 76 – Rebecca Seawright (Rise and Unite) endorsed over Louis Puliafito (R, L) and Patrick Bobilin (Blue Wave)
Manhattan: Upper East Side, Yorkville, Roosevelt Island
Assembly District 64 – Brandon Patterson (D, I) endorsed over Michael Tannousis (R, C)
Staten Island: East Shore, and Brooklyn: Bay Ridge
ACKNOWLEDGMENTS 
This Voters Directory would not be possible without the hard work of members of the Citizens Union Board, Local Candidates Committee (LCC), staff and interns. 30 volunteer LCC members, 6 interns, and staff members formed nonpartisan interview teams and evaluated 7 candidates in 4 races for state Senate and Assembly. We thank them for contributing their time, energy, and expertise to interviewing and evaluating candidates, especially during this challenging moment. We thank you for your support, and hope you enjoy the latest edition of the Voters Directory.