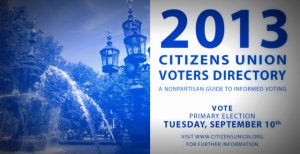 Welcome to the online Citizens Union.  2013 Primary Election Voters Directory
This page – with links below – contains comprehensive information regarding each of the 33 races evaluated by Citizens Union. Each election contest's page contains:
individual summaries of candidates who were interviewed by Citizens Union;
the rationale for Citizens Union's preference for a particular candidate;
candidates' detailed responses to our questionnaire;
links to campaign finances filings and other candidate information; and
links to district maps and Gotham Gazette's Gotham Voters profile page.
The three citywide races are presented first, followed by boroughwide offices, then state assembly vacancies, concluding with city council races by borough.
---
In addition to this online version, you may also see the print version of the 2013 Primary Election Voters Directory and Citizens Union's press releases regarding our 2013 Primary Election preferences for borough-wide and city council races, as well as the release for citywide races.
All questionnaires submitted to Citizens Union for contested primary elections are available; please note, however, that due to limited capacity, Citizens Union is not able to evaluate every race taking place in New York City.  Our past preference and endorsement decisions are also available.
Mayoral Democratic Primary
Mayoral Republican Primary
Comptroller Democratic Primary
Public Advocate Democratic Primary
---
Brooklyn District Attorney Democratic Primary
Manhattan Borough President Democratic Primary
Queens Borough President Democratic Primary
STATE ASSEMBLY VACANCIES
STATE ASSEMBLY DEMOCRATIC PRIMARIES
District 86 (Bronx) – Victor Pichardo preferred over Haile Rivera
BRONX DEMOCRATIC PRIMARIES
District 11 – Clifford Stanton preferred over Andrew Cohen
District 15 – Albert Alvarez preferred over Raquel Batista, Joel R. Rivera, Cynthia Thompkins and Ritchie Torres
District 16 – Pedro Alvarez preferred over Vanessa Gibson, Daryl Johnson, Bola Omotosho and Carlos Sierra
BROOKLYN DEMOCRATIC PRIMARIES
District 33 – No preference between Stephen Levin^ and Stephen Pierson
District 34 – Preference for Antonio Reynoso
District 35 – Ede Fox preferred over Olanike Alabi
District 36 – Robert Cornegy Jr. preferred over Robert Waterman
District 37 – Kimberly Council preferred over Rafael Espinal Jr. and Helal Sheikh
District 38 – Carlos Menchaca preferred over Sara Gonzalez^
District 45 – Preference for Jumaane Williams
District 46 – Alan Maisel preferred over Mercedes Narcisse
District 47 – Todd Dobrin preferred over Mark Treyger
District 48 – Ari Kagan preferred over Chaim Deutsch, Igor Oberman and Theresa Scavo
MANHATTAN DEMOCRATIC PRIMARIES 
District 3 – Corey Johnson preferred over Yetta Kurland
District 5 – Ben Kallos preferred over Micah Kellner and Edward Hartzog
District 6 – Mel Wymore preferred over Ken Biberaj, Debra Cooper, Noah Gotbaum, Marc Landis and Helen Rosenthal
District 7 – Mark Levine preferred over Joyce Johnson, Mark Otto, Zead Ramadan and David Sasscer-Burgos
District 8 – Melissa Mark-Viverito^ preferred over Gwen Goodwin
District 9 – No preference; Inez Dickens^ interviewed
QUEENS DEMOCRATIC PRIMARIES
District 19 – Austin Shafran preferred over John Duane, Paul Grzaiano and Paul Vallone
District 27 – Clyde Vanel preferred over Joan Flowers, Greg Mays, I. Daneek Miller and Sondra Peeden
District 31 – Donovan Richards^ preferred over Ricardo Brown
STATEN ISLAND PRIMARIES
Staten Island Democratic Primary
District 50 – John Mancuso preferred over Mendy Mirocznik
Staten Island Republican Primary
District 50 – Steve Matteo preferred over Lisa Giovinazzo
Candidates and issues
Incumbent records