CITIZENS UNION REACTS TO THE CONVICTION OF FORMER NASSAU COUNTY EXECUTIVE ED MANGANO
Citizens Union, a leading good government group committed to fostering accountability, accessibility, and transparency in our government issues the following statement from Executive Director Betsy Gotbaum:
New York voters put their faith in Ed Mangano, and he betrayed them by using the office of the County Executive for personal financial gain. We cannot allow powerful interests to use their wealth to influence government contracts that should be steered toward providing the best possible government service and administration. Simple but significant methods could prevent nefarious public and private sector actors from using backdoor channels to influence our government. New York needs, and New Yorkers deserve, reforms to create a statewide database of business subsidies and real oversight of government procurement. This is yet another reminder that it's time to get serious about ethics reform, like the Database of Deals and Clean Contracting, which puts the public interest ahead of special interests and prevents individuals from having undue influence over government decisions.
Citizens Union Releases Report Outlining the Cost of Early Voting
Report finds that implementing early voting, electronic pollbooks and a combined primary would cost NYS $49.5M over ten years, and result in ongoing savings in small and rural counties. Citizens Union calls on Governor Cuomo and the legislature to include funding for early voting in the State budget.
Download the report here
The Cost of Progress for New York Voters
In 2018, Citizens Union commissioned a Policy Capstone Project from a team of graduate students at New York University's Robert F. Wagner School of Public Service. The team looked at the cost of implementing early voting and electronic pollbooks and how much the state would save by consolidating the primary elections for federal and state offices.
TODAY IN GOTHAM GAZETTE

Citizens Union Foundation's watchdog publication Gotham Gazette provides New Yorkers with illuminating analyses on policy, long-form interviews with thought leaders, and under-reported stories about the actions of government and government officials. Read Gotham Gazette's latest stories.

---

A podcast hosted by Ben Max of Gotham Gazette and Jarrett Murphy of City Limits that began in 2016 as a brief discussion on the latest in housing policy but quickly expanded to lengthier discussions of a wide variety of political and policy issues, including interviews with candidates for office, elected and appointed government officials, advocates and other experts. In 2017 the show was an important stop for candidates for top city offices and in 2018 for candidates for state offices. Also in 2018, the podcast was picked up by WBAI radio, where the show initially airs on Wednesdays from 5 to 6 p.m. Portions or full episodes of the show are then posted to the podcast streams, and to the Gotham Gazette and City Limits websites. Listen

 

A bi-weekly podcast hosted by Ben Max of Gotham Gazette and Maria Doulis of the Citizens Budget Commission connecting data points to the lives of New Yorkers.
A NEW START FOR OLD REFORMERS
Errol Louis spoke with newly appointed executive director Betsy Gotbaum on Road to City Hall. Watch here.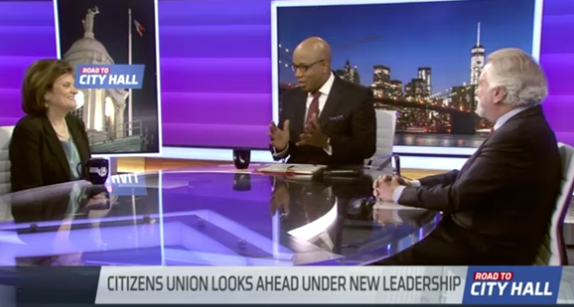 Allow Public Disclosure of Police Records Relating to Police Misconduct
"No other public officer in the state enjoys the level of protection from public scrutiny as do the police," said Betsy Gotbaum, Executive Director of Citizens Union. "Not only are they charged with maintaining public safety, but also the police are often a source of influential testimony, which can have mortal implications for people's lives. They also carry lethal force. In the face of such grave responsibility, why are police officers shielded from public oversight?" Read More