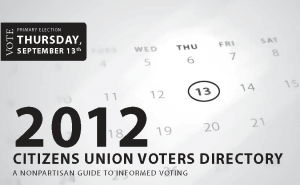 Welcome to the online Citizens Union 2012 Primary Election Voters Directory.  This page contains information regarding each of the 19 races that were evaluated by Citizens Union, which can be accessed through the links for each district below.  Each district's page contains:
Please also see the print version of the 2012 Primary Election Voters Directory and Citizens Union's press release regarding our 2012 Primary Election preferences.  Excerpts from the print directory are available below.
All questionnaires submitted to Citizens Union for contested primary elections are available; please note, however, that due to limited capacity, Citizens Union is not able to evaluate every race taking place in New York City.
Our past preference and endorsement decisions are also available.
COUNTYWIDE JUDICIAL ELECTIONS
Manhattan Democratic Primary – Surrogate Judge
Barbara Jaffe preferred over Rita Mella
NEW YORK CITY DISTRICT RACES FOR STATE LEGISLATURE
---
 Find your district and polling place
Incumbents are marked with an asterisk (*)
Bronx Democratic Primaries – Assembly
Assembly District 80 – Mark Gjonaj preferred over Adam Bermudez, Naomi Rivera* and Irene Rukaj
Assembly District 84 – Maximino Rivera preferred over Carmen E. Arroyo* and Charles Serrano
Assembly District 87 – Danny Figueroa preferred over Luis Sepulveda
---
Brooklyn Democratic Primary – Senate
Senate District 18 – Jason A. Otano preferred over Martin Malave Dilan
Brooklyn Democratic Primaries – Assembly
Assembly District 42 – Rodneyse Bichotte preferred over Rhoda Jacobs*
Assembly District 55 – Anthony Herbert preferred over William Boyland, Jr.*, Nathan Bradley, Roy Antoine, Christopher J. Duroshimi, Anthony Jones and David Miller
Assembly District 57 – Olanike Alabi preferred over Martine Guerrier and Walter Mosley
Assembly District 60 – No preference between Christopher Banks and Inez Barron
---
Manhattan Democratic Primaries – Senate
Senate District 27 – Brad Hoylman preferred over Tom Greco and Tanika Inlaw
Senate District 31 – Adriano Espaillat* preferred over Guillermo Linares
Manhattan Democratic Primaries – Assembly
Assembly District 72 – Mayra Linares preferred over Melanie Hidalgo, Gabriela Rosa and Ruben Vargas
Assembly District 74 – Brian Kavanagh* preferred over Juan Pagan
---
Queens Democratic Primaries – Senate
Senate District 10 – James Sanders Jr. preferred over Gian Jones and Shirley Huntley*
Senate District 16 – No preference between John Messer and Toby Ann Stavisky*
Queens Republican Primary – Senate
Senate District 15 – Eric Ulrich preferred over Juan Reyes
Queens Democratic Primaries – Assembly
Assembly District 25 – Nily Rozic preferred over Jerry Iannce
Assembly District 40 – Ron Kim preferred over Ethel Chen, Yeh Chou, Myungsuk Lee and Martha Flores-Vasquez
Queens Republican Primary – Assembly
Assembly District 40 – No preference between Sunny Hahn and Phil Gim
---
Citizens Union will evaluate Staten Island races in the General Election Voters Directory
Additional information
Campaign contributions
Candidates and issues
Incumbent records