City Council District 50
Endorsed Candidate
James Oddo (R, C, I, WF)


James Oddo's questionnaire
Age: 43
Occupation: Councilmember since 1999
Education: Fordham University (B.A.); New York Law School (J.D.)
Campaign website: Not available
James Oddo, minority leader of the council, says his record reflects his ability to be an effective legislator, as he has passed more bills in the council than any other minority party representative in the council, and has been able to work in a bipartisan manner to secure funding for his district.  His top priorities are increasing clinical services and healthcare access, securing space to house more classrooms, reducing traffic congestion, improving infrastructure, and addressing the growing prescription drug abuse problem among young adults.  On government reform, Mr. Oddo is supportive of many of Citizens Union's issues, believing there are too many committees in the council currently and that the council should be a more balanced check on the power of the mayor.  Citizens Union believes that Mr. Oddo's honesty and independence have made him an effective legislator working within a small minority and supports his reelection.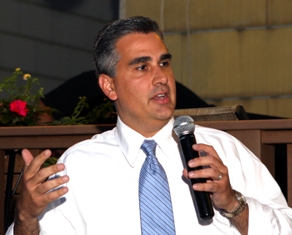 James Pocchia (D)
James Pocchia's questionnaire
Age: 43
Occupation: Attorney, Law Offices of James M. Pocchia
Education: New York University (B.S., Cum Laude); Brooklyn Law School
Campaign website: http://www.jamespocchiaforcitycouncil.org/Home_Page.html
James Pocchia, believes his experience in the private sector will serve him well if elected, and says some of his top priorities would be to secure an HHC hospital on Staten Island, introduce legislation that would provide each borough with a proportional amount of funding for healthcare services through HHC, create a public campaign against smoking and obesity, improve transportation and traffic, and increase parental involvement in education policy.  With regard to government reform, Mr. Pocchia says there needs to be more disclosure for councilmembers and their family members to reduce incidences of organizations receiving funding because of their relationship to a councilmember.  Mr. Pocchia is a strong candidate, and would make an effective legislator, and Citizens Union hopes that he will remain involved in politics.