City Council District 45
Preferred Candidate
Jumaane D. Williams 
Jumaane Williams's questionnaire
Age: 33
Occupation: Consultant, Community
Neighborhood Economic Development
Education:  Brooklyn College – Political Science (B.A.); Brooklyn College – Urban Policy & Administration (M.A.)
Campaign website: http://www.jumaanewilliams.com/
Jumaane Williams has a long history of community organizing, primarily on housing issues.  He was the Executive Director of the NYS Tenants & Neighbors, Housing Director for the Flatbush Development Corporation, Interim Executive Director of Flatbush East Community Development Corporation, Assistant Director for the Greater Flatbush Beacon School, and is a member of Community Board 18.
On reform issues, Mr. Williams supports the majority of Citizens Union's reform proposals.  While Mr. Williams generally supports three terms over two terms, he opposed the term limits extension stating that the fifty-one members of the council should not be able to extend their own terms over the will of voters.  He also supports giving council committees an increased role and supports a Charter review to examine the council's role in the budget process, and supports increased transparency of discretionary funds through a website to clearly show the public where money is going.  Mr. Williams has a clear grasp of reform issues, and where his stances may have differed, he was able to present alternative solutions.
Williams's main priorities for the district include affordable housing, youth and education, public health issues such as HIV and asthma, immigrant concerns, and senior services.  Citizens Union prefers Mr. Williams because he is knowledgeable about both the needs of his community and the political process.  His role as a community organizer will be an asset in promoting his policy goals, and he also possesses experience in direct advocacy.  Mr. Williams' experience and personal triumph over his disability have demonstrated his unique qualifications for the office and Citizens Union believes he would be an effective and passionate advocate for his district if elected.
Ernest Emmanuel
[Candidate did not return questionnaire and could not be scheduled for an interview.]
Erlene King
[Candidate did not return questionnaire.]
Campaign website: http://www.erleneking.com/
Erlene King is currently the CEO/president of "The Community Help Center Inc.," which advocates for residents in East Flatbush, Midwood, and the Flatlands.  She has also been active in many other community roles through her work with Kids Living with AIDS Inc. and Camba's Beacon after-school program advisory board at Public School 269.  She also managed former Councilmember Lloyd Henry's district office from 1997-2001.  She previously ran for this council seat in 2003 and 2005.
On reform issues, Ms. King supports the majority of Citizens Union's reform goals.  She opposed the extension of term limits, and supports increasing transparency of member items.  Ms. King stated that she believes that she will be able to work with other members to build coalitions to support reforms due to the increasing support for change.
Ms. King's primary issue of concern for the district is education.  She believes that more after-school programs should be created and that parents should be engaged more by scheduling school meetings at more convenient times.  Ms. King also believes that more schools must be constructed.  Her other priorities include housing, landmarking in the district, and health and safety issues.  Ms. King has a long career of service in the district, and is knowledgeable about the needs of her community.  While King's community background is impressive, she did not present clear priorities and solutions for the needs of her district other than with respect to education.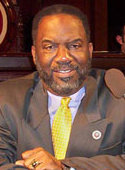 Dexter A. McKenzie
[Candidate did not return questionnaire and could not be scheduled for an interview.]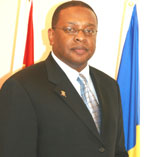 Councilmember Kendall Stewart
[Candidate did not return questionnaire and could not be scheduled for an interview.]

Samuel Taitt
[Candidate did not return questionnaire and could not be scheduled for an interview.]
Campaign website: http://www.samtaitt2009.com/