City Council District 4
Endorsed Candidate

Daniel Garodnick (D, WF)
Daniel Garodnick's questionnaire
Age: 37
Occupation: Councilmember since 2006
Education: B.A., Dartmouth College; J.D., University of Pennsylvania Law School
Campaign website: http://dangarodnick.com/
Daniel Garodnick, a first-term councilmember elected in 2005 who chairs the council's subcommittee on planning, dispositions and concessions and co-chairs council task forces on rules and infrastructure, would continue to focus on providing important and necessary constituent services to creatively solve problems on behalf of the district's residents, advancing legislation relating to a green energy code and seeking additional leadership roles within the council.  Mr. Garodnick is a consistent supporter of Citizens Union's reform agenda, in particular serving as the prime sponsor of Citizens Union-backed legislation to empower the Civilian Compliant Review Board to prosecute the cases it substantiates.  Citizens Union endorses Mr. Garodnick's candidacy because of his strong record of accomplishments and his consistent advocacy and leadership in support of reform positions that Citizens Union highly prioritizes.
Ashok Chandra (R, C)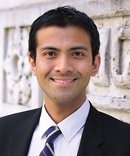 Ashok Chandra's questionnaire
Age:30
Occupation: Attorney, Bloomberg, LP
Education: University of Texas, Austin (B.A., English; B.S., Biochemistry); Fordham University Law School (J.D.)
Campaign website: http://www.chandrafornewyork.com/
Ashok Chandra said he would focus on creating new charter schools in his district, improving the overall quality of education, and promoting the expansion of small businesses. Mr. Chandra, who supported many of Citizens Union's reform priorities, said he was not supportive of the council's recent term limits extension and that a referendum would have been the only appropriate avenue for such a change.  Although Mr. Chandra is a qualified candidate with a strong interest in improving the city for families and has fresh perspectives on the issues, Citizens Union believes he needs more experience and concrete positions in order to compare to the incumbent's impressive and solid track-record of leadership and accomplishments.