City Council District 34
Preferred Candidate
Councilmember Diana Reyna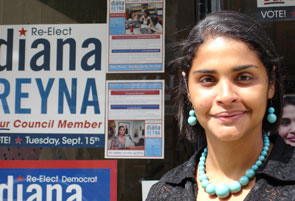 Diana Reyna's questionnaire
Age: 34
Occupation: Member, New York City Council
Education: Bacherlor of Science
Campaign website: www.dianareyna.com
Diana Reyna, councilmember since 2001 and chair of the council's committee on rules, is running for reelection to the 34th city council district because she would like to finish outstanding projects and despite the extension of term limits – she would like to give her constituents greater choice.   Ms. Reyna sees herself as the best candidate in the race because of her experience – as an elected official, a former staff member in government, and her presence in the community for the last fifteen years where she has channeled community concerns and helping constituents navigate government.  If reelected, she would commit to addressing both macro and micro issues, such as rezoning and holding nonprofit groups that receive city funding accountable.
Regarding reform issues, Ms. Reyna discussed her position as chair of the Rules Committee and the rules reforms that were implemented in 2006 when Councilmember Quinn became speaker as a testament to her commitment to reform.  Ms. Reyna recognized the need for greater clarity about permissible discretionary funding and vetting of groups that receive council discretionary funding.
Ms. Reyna also discussed the importance of transportation issues to her district and her opposition to congestion pricing because her district contains the main points of entrance and exit from Brooklyn and she believes that Brooklyn residents would pay the price without reaping any significant benefits from the program.  She emphasized the need for more public transportation on Kent Avenue, which has recently been developed. She also expressed her opposition to the city's plan for the Broadway Triangle because it does not include the community's wishes and instead supports the community's development plan, which has gone unrecognized.
Citizens Union prefers Ms. Reyna, despite her vote in support of the extension of term limits, because she has proven herself to be a strong, independent representative for her community.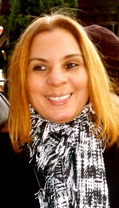 Maritza Davila
[Candidate did not return a questionnaire and declined to be interviewed.]
Campaign website: http://www.votemaritzadavila.com/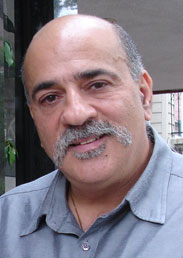 Gerald Esposito
Gerald Esposito's questionnaire
Age: 55
Occupation: District Manager, Community Board #1
Education: LaGuardia Community College (A.A.), CUNY Graduate Center (B.S.), John Jay College (M.P.A.)Campaign website: http://www.gerryesposito.com/
Gerald Esposito, a district manager of a local community board, has been in the community for over thirty years and knows the district well.  He is running because he is unhappy with the current state of his district and is enraged about the extension of term limits.  He stressed his independence from the political establishment and has received a lot of ground level support.
Mr. Esposito called the Broadway Triangle plan outrageous.  The process was not open and did not include all stakeholders in the community and should have been introduced sooner to ensure that there was sufficient time for community consideration and did not become a campaign issue.  He specifically emphasized the need for displaced businesses to be relocated within five blocks and for displaced residents to have first preference for new residences.
With respect to reform issues, upon entering office, Mr. Esposito plans to introduce legislation that would bar changes to term limits unless done by referendum and also vowed to never vote for legislation that increases councilmembers' salaries unless it is effective for the next class of councilmembers.  Regarding the council's discretionary funding, Mr. Esposito said he would like to give more power to the community boards because they used to play a larger role in the funding decision-making process.  He also said he would like to make it illegal for councilmembers to give money to groups that are associated with their family members.  He said he would also like to limit the power of the speaker and the speaker's power over committees. Finally, Mr. Esposito said he is opposed to a charter revision commission that is appointed solely by the mayor, and instead proposes a charter revision commission that is comprised of more grassroots representation.