City Council District 32
Endorsed Candidate
Eric Ulrich (R, C, I)


Eric Ulrich's questionnaire
Age: 24
Occupation: Councilmember since 2009
Education: St. Francis College (B.S.); St. John's University (M.A.—matriculated status)
Campaign website: http://www.ericulrich.com/Home.aspx
Eric Ulrich was elected to office in February 2008 during a special election.  If reelected, he would continue working to improve quality of life issues like graffiti removal, improving transportation in the district such as bus rapid transit, and securing more funding for classrooms.  On government reform, Mr. Ulrich is a supporter of much of Citizens Union's agenda, particularly increasing transparency.  Citizens Union supports Mr. Ulrich's reelection because of his motivated effort to create meaningful improvements in the district and is encouraged by his energy and potential to bring new and fresh ideas to the council.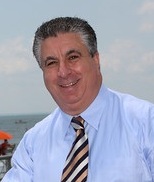 Frank Gulluscio (D, WF)
Frank Gulluscio's questionnaire
Age: 60
Occupation: District Manager, Community Board 6
Education: SUNY (B.S., Public Administration)
Frank Gulluscio, former aide to now State Senator Joseph Addabbo and current district manager for Community Board 6, said his top priorities if elected to office would be to fight for increased transportation like improved ferry service and a super-A train that would make the peninsula in the district more accessible, ensuring representation for all of the district's diverse populations, bringing back resources to the district and focusing on eliminating duplicative services to maximize funding.  Mr. Gulluscio, a supporter of government reform, would empower committee chairs within the council, and seek agency budgets to be more itemized to allow for better public review.  Mr. Gulluscio brings with him a base of knowledge that would serve his district well and would be a strong representative if elected.