City Council District 26
Preferred Candidate
James (Jimmy) Van Bramer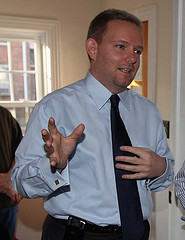 James Van Bramer's questionnaire
Age: 39
Occupation: Chief External Affairs Officer, Queens Library
Education: St. John's University (B.S, Criminal Justice)
Campaign Website: www.jimmyvanbramer.com
Jimmy Van Bramer, currently chief external affairs officer for the Queens Public Library, has a background in organizing, having worked in the late 90's in support of a full campaign finance program in the city.  Mr. Van Bramer is running in Council District 26 to fill the seat of Councilmember Eric Gioia, who is running for New York City Public Advocate.  He  believes that his community organizing background can provide a new perspective to the council.
A supporter of Citizens Union's agenda for government reform, he believes that New York's election system is in need of more independence instead of being overseen by only the major two political parties.  He is particularly concerned about the conflict of interest presented by county district leaders who are able to appoint the poll workers who serve on Election Day in the elections in which those very district leaders run.  He also supports increased pay for poll workers as a way to attract better quality volunteers. While Mr. Van Bramer is supportive of full campaign financing, where Citizens Union prefers a partial, public matching system which is the system currently used in New York City, he understands the necessity of campaign finance reform and has a long track-record in advocating in support of it.  He pointed to his large number of individual donors and his pledge not to take any money from lobbyists as a demonstration of his commitment to the notion of empowering small contributors.. If elected, Mr. Van Bramer said he would push for increased disclosure from elected officials, eliminating councilmember stipends, making the councilmember's office a full-time position, and banning outside income.  On the issue of term limits, Mr. Van Bramer said that he is a supporter of terms limits and was opposed to the recent vote by the Council to extend terms from two to three terms.  If elected, he said he will not vote for another extension.
Within the district, Mr. Van Bramer would work to improve constituent services and be more responsive to constituent inquiries and complaints that his predecessor, if elected.  In addition, his top priorities would be to fight for baseline funding for schools and libraries.  He would also fight for the city to gain a greater portion of MTA funding to improve mass transit.  He would also fight to strengthen anti-graffiti efforts and the work of the Community Assistance Unit within the district.  Citizens Union prefers Mr. Van Bramer in this race based on his strong record on reform issues, his community activism and focus on improving the district's quality of life.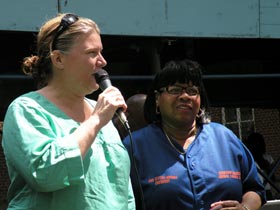 Dierdre Feerick
Dierdre Feerick's questionnaire
Age: 41
Occupation: Deputy Director, New York City Council Administrative Services Division
Education: University at Albany (B.A.); Brooklyn Law School (J.D.)
Campaing website: www.FeerickForCouncil.com
Deirdre Feerick, a current staff member for the City Council, is running for office because she believes it is too important a time not to, and that with difficult times ahead it is important to elect someone with experience.  Ms. Feerick says she will use all the tools available to her to find solutions and get results, even beyond legislative answers.   Ms. Feerick is not supportive of reform that will remove control of election administration from Democrats and Republicans, as she believes that while it may not be perfect, having a system with party individuals involved from both major parties ensures that decisions are trustworthy and fair.  In addition, the party system has the ability to rally poll workers, and as a district leader, she tries to appoint poll workers that are from the district and engage the communities' youth in the process. While Ms. Feerick said she would advocate for increased oversight and transparency of campaign finance, she opposes a ban on the transfer of "war chest" funds from one campaign to another, because she believes that the current transfer restrictions regulated by the Campaign Finance Board are sufficient.  She does, however, believe that unidentified campaign spending is a larger, unaddressed problem.
On council reform, Ms. Feerick would be opposed to reducing the number of committees in the council, because she believes that as committees become responsible for more issues, they will be overburdened and unable to hold hearings on an increased number of issues to effectively tackle constituents concerns.  She would also be opposed to eliminating councilmember stipends, as she believes that the additional responsibilities of being chair of a committee deserves extra compensation, although she would be open to removing stipends for the Majority Leader.  An opponent of term limits, Ms. Feerick, was nonetheless opposed to the Council action to extend them from two to three terms because she believes the issue should have gone back to the voters.
With regards to transferring prosecutorial power to the CCRB, Ms. Feerick believes that this would create a problem in the system by having police be disciplined from outside the system, and is concerned that it would not sufficiently prevent inappropriate behavior going forward.  By keeping this power within the police department, she believes the system benefits from having law enforcement officials involved at all steps, and will send a clearer, harder message to offenders. While Ms. Feerick's has a breadth of experience during her time with the council and would be able to hit the ground running if elected, Citizens Union believes that her opposition to a number of our reform agenda items made us question whether she would be the best advocate for advancing reform and needed change within the Council.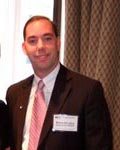 Brent O'Leary
Brent O'Leary's questionnaire
Age: 39
Occupation: Legal Compliance Officer, Bloomberg LP
Education: Bostion University Law School (J.D.)
Campaign website: www.brentoleary.com
Brent O'Leary, is running because he believes that in dismal financial times his experience as a business and financial lawyer will be vitally important to finding new sources of funding.  Mr. O'Leary said that he will distinguish himself from the current councilmember by increasing accessibility by holding monthly town hall meetings in the district.  Mr. O'Leary said that in an effort to increase transparency, his office would record all meetings he and his staff have with lobbyists and make those publicly available.  In response to the councilmember discretionary funding issue, he said he would put online all applications, and allocations that passed through his office.  He would also use his website to provide information about how to receive funding and would utilize community boards more in deciding allocations.
On council reform, Mr. O'Leary believes there is too much power with the speaker and that individual members need more ability to pass their proposed legislation.  To address the current budget gap, he said that government needs to better use its assets, like renting out unused property held by the MTA, and be more creative in finding alternative sources of funding, like finding sponsors for development projects, similar to the Atlantic Yards project. On the issue of term limits, Mr. O'Leary said he would vote to reinstate two terms, and would respect any changes made through a public referendum.
On district-specific issues, Mr. O'Leary he would work on ways to preserve the residential area in Dutch Kills in Long Island City.  He expressed concern with the current development plan to place two new hotels in the area, and the negative effects increased tourism could create for residents living there.  He would also focus on introducing legislation to enforce building safety, specifically with regards to combating overcrowding.  He also would like to work on a plan for developing Sunnyside Yards, especially to create park space in the project.  Mr. O'Leary has characterized himself as the only progressive in the race.  If elected, he would work to push for greater privatization of city services, and more efficient and smaller government.