City Council District 25
Preferred Candidate
Daniel Dromm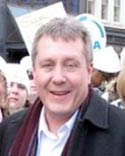 Daniel Dromm's questionnaire
Age: 53
Occupation: New York City Public School Teacher
Education: Marist College(B.A., Spanish and Journalism); City College (M.A., Education)
Daniel Dromm, a public school teacher for twenty-five years, is running for election because he would like to make the district, and the entire city, a better place to live and would like to be a strong voice in the council on education issues.  He also would like to focus on reducing congestion in the district, increasing parkland, and drawing attention to civil rights issues.  Mr. Dromm said if elected he would be more present and visible in the district for his constituents.
Mr. Dromm also spoke at length about his plans to address the district's healthcare needs, especially since the district recently lost a hospital and the remaining hospital is overburdened.  He would fight to bring much-needed healthcare resources into the district. Mr. Dromm supports mayoral control, but also spoke at length about what he would do to reduce school overcrowding and class size.  In particular, he was troubled by the fact that there has not been one new school seat in the district when schools are overcapacity.  With respect to class size he would look at the waste in the system, campaign for fiscal equity money, ARIS tracking system and no bid contracts to find more money to put towards reducing class size.
He is a strong supporter of Citizens Union's reform agenda and specifically mentioned his concerns with the Civilian Complaint Review Board's handling of claims of police misconduct saying the appointees need to be fair, open-minded individuals independent of the council and the mayor. Mr. Dromm supports improving council operations and would go further to empower committee chairs to consider budget issues relevant to their committees.  Finally, Mr. Dromm said while discretionary funds are definitely valuable, there needs to be greater safeguards to ensure money is not wasted.  He has had firsthand experience with discretionary funding through a nonprofit he formed, and while the new screening process is more cumbersome, he believes that the new changes have been good.  He believes that the process could be further improved to be even more transparent.
Citizens Union prefers Mr. Dromm in this race because he has been a long-time community activist, is knowledgeable about the district and is passionate in his vision when advocating for necessary reforms on important issues like healthcare, education and oversight of police misconduct.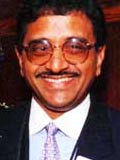 Stanley Kalathara
Stanley Kalathara's questionnaire
Age: 64
Occupation: Attorney
Education: Pace University (Master of Law)
Stanley Kalathara, a real estate attorney who represents community residents and former restaurant owner, said he decided to run in 2007 when the seat was supposed to be an open seat because of term limits.  He is running because he wants to give back to the community that has given so much to him and his family.  He said he has the experience and the work ethic to be a strong representative for the district.  If elected he would focus on helping the small businesses flourish and creating jobs, especially on Roosevelt Avenue where there are many restaurants that are neglected and rarely frequented, but are cultural gems.
Mr. Kalathara was strongly opposed to term limits, even going so far as to join the term limits lawsuit challenging the legality of the council's action.  He said that he does not know much about council operations, but said he would like to work to eliminate corruption.  With respect to council discretionary funding, recognizing the problems with the system, he also believes it is important to give city funding to community-based organizations because government cannot provide all services to community, so he would not completely eliminate this critical funding source.  Mr. Kalathara also said individual citizens need to pitch in, like he did to provide the district with immigration information and for after-school centers, and lend their expertise to their district. While Mr. Kalathara presented some good ideas and has been active in his community, he did not merit the organization's support at this time because he was less experienced than the other candidates in this race; but Citizens Union admires his spirit and work ethic and applauds his own efforts at providing vital services to his neighbors.

Helen Sears
Helen Sears' questionnaire
Age: 79
Occupation: Member, New York City Council
Education: Queens College (B.A.)
Helen Sears, an incumbent councilmember since 2002, chair of the council's Governmental Operations Committee and member of the council's budget negotiating team, is seeking reelection because she believes two terms is too short to get work done. She also wants to continue to work with the state and congressional delegations to get more money for the city and the district, complete some unfinished projects, and use the information that she has learned during her time in the council continue to bring government to the people.  She talked specifically about her work to bring a cancer pavilion and primary health care facilities to the district.
Ms. Sears, a district leader who is responsible for appointing poll workers for Election Day, is not supportive of many of Citizens Union's election reform proposals, including restricting the board of elections to reduce the role of the major parties in running the electoral system.  She said that the current system is transparent and ensures that there are qualified persons available to work the polls, despite the boards' constant shortfalls in poll workers.  Ms. Sears believes that bipartisanship is essential and the real problem is that Albany leadership has never given the State Board of Elections sufficient resources to fulfill its mission.
On the issue of council discretionary funding, Ms. Sears said the system has been improved, including public hearings by the agencies that distribute the funding, but said if there is more that needs to be improved she will do what needs to be done.  She said that while she may not agree with Citizens Union on everything, she has applauded the organization's work and has learned a lot during her time in office that she would like to work on during her third term.  The organization does not prefer Ms. Sears because there does not seem to have much common ground with our reform agenda.