City Council District 19
Preferred Candidate
Kevin Kim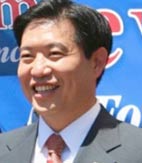 Kevin Kim's questionnaire
Age: 39
Occupation: Deputy Director of Community Affairs, U.S. Representative Gary Ackerman
Education: Stanford University (B.A. & M.A.); Columbia Law School (J.D.)
Candidate Website: www.votekevinkim.com
Kevin Kim, the current Deputy Director for Community Affairs for U.S. Representative Gary Ackerman, sees government as a solution to many day-to-day issues that affect people, and is running to fill the seat of Councilmember Tony Avella, who is running in a Democratic Primary for Mayor.  Mr. Kim, who emphasized his upbringing in the district and Queens, believes that as an immigrant, who grew up in New York, he can relate to many of the experiences of the district's constituents and will be able to effectively unite the different parts of the district.
If elected, his top priorities would be focusing on education, zoning and overdevelopment, small businesses, and the environment.  He would like to improve public education, particularly by increasing funding for after-school and library programs. Mr. Kim sees public-private partnerships as a way to bring much needed money into city services such as the public schools and after-school programs. He thinks naming classrooms or adopting benches based on the adopt-a-highway approach is a good idea. He also believes that mayoral control has benefited the city, but it has its faults, and needs to incorporate parents more.  Mr. Kim proposed recreating the Panel for Education Policy by giving the mayor six appointments, one appointment to each borough president, one appointment to teacher and principal groups, and one appointment made by parents. On development, he thinks zoning boards need to be more mindful of keeping the character of the neighborhood. In addition, he would like to see the city do a better job of informing small businesses about the regulations relevant to them to avoid fines for violations. He thinks more can be done to be environmentally friendly such as a low-tech solution of painting our roofs white.
On government reform, Mr. Kim is supportive of most of Citizens Union agenda, and said he would be a committed proponent of reform measures.  He is a supporter of term limits, and felt the recent change in the term limits law was disgraceful.  In addition, he was also disappointed by the discretionary funding scandal that plagued the council last year and would advocate that committee chairs be strengthened to make them more independent. He would like to see the entire budget process become more transparent, and would also push for councilmembers to fully disclose any conflicts of interest.  Citizens Union believes that Mr. Kim has many new ideas and the political knowledge to build partnerships and be an effective representative, earning him the organization's preference.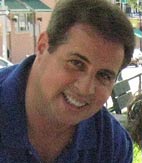 Steven Anthony Behar
Steven Behar's questionnaire
Age: 45
Occupation: Attorney, self employed
Education: SUNY Albany (B.A.); Tulane (M.B.A. & J.D.); Georgetown University (LL.M.)
Candidate website: www.stevebehar.com
Steven Anthony Behar, has always considered himself a political person, and therefore, decided to take his experience volunteering on various campaigns across the country to a new level and run for office to make a positive impact in his community.  Mr. Behar highlighted the fact that he was one of only three of the democratic candidates that did not seek the conservative party line as a sign of his identification as a progressive Democrat.  In the district, he would focus on focus on environmental initiatives, like expanding upon the Mayor's 1 million trees program and plant 1,000 in the district during his term if elected.  He would also work on promoting building retrofits and the use of alternative fuels.  On education, he would like to see the city have greater home rule—in addition to transportation issues—and believes this is a key component to improving the city's schools.  He would also advocate for greater decentralization as a way to allow parents to be more involved in the schools.
Mr. Behar, if elected, said he would be an active proponent of government reform.  He would be supportive of a full public campaign financing bill that would increase ballot access as implemented in other states like Arizona and Maine, for example.  He would like to see stricter regulations for lobbyists.  Mr. Behar said that while he is opposed to term limits, he believes that there does need to be a way to break the cycle of incumbency and believes the best way to do that is to implement public financing to increase competition.  On council reform, he is supportive of limiting the number of committees and providing chairs with more independence as he currently sees many of the committees as being ineffective.  Mr. Behar characterizes himself as the reform candidate, and while he has a number of interesting ideas, he does not appear as integrated or as knowledgeable of the district as the other candidates on the race.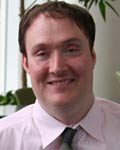 Thomas Cooke
Thomas Cooke's questionnaire
Age: 38
Occupation: Retired (U.S. Army)
Education: Queens College (Bachelor's); Sarah Lawrence College (Master's)
Candidate website: www.cookeforcouncil.com
Thomas Cooke is running for city council because he is looking for an outlet where he can direct his passion for politics and change things for the better.  His top priorities if elected include focusing on overdevelopment, building safety and education.  In particular, as a councilmember, Mr. Cooke would increase, and where needed introduce new, fines building inspectors can assess on contractors that are cited for violations, because he believes the current process is insufficient, and the ninety-day period for builders to rectify violations is ineffective.  He also sees zoning enforcement in the district as a problem, largely due to a shortage of inspectors.  As a solution, he would like to see community boards given more influence, and grant the Board of Standards and Appeals more independence to make the appeals processes more meaningful.  He believes that with regard to education, Mr. Cooke would dramatically streamline the Panel for Education Policy, and reduce the number of appointees to five, one by the city council, two by the mayor, one by the principals union, and one by parent organizations.
On government reform, Mr. Cooke would like to see dramatic change in election administration in New York, and believes that Citizens Union's proposal to create nonpartisan and professional bodies to administer elections while maintaining the two party check for balance when necessary does not go far enough.  He would advocate for total nonpartisanship.  In addition, he would like to see public financing for campaigns passed at the state level.  Mr. Cooke, supports empowering committee chairs, and would eliminate stipends in addition to banning the ability of councilmembers to earn outside income.  In addition, as a solution to address the discretionary funding issues, he would advocate for eliminating member items and, in a related thread, would introduce legislation to limit nepotism and create an investigative body to follow-up with alleged wrongdoing.  Mr. Cooke is a supporter of term limits, and would work to bring legislation to the council floor to repeal the recent term limit extension, or at the very least, require another public referendum on the issue.  Mr. Cooke said he has a unique perspective on life because of his injuries that not only demonstrates his ability to overcome adversity, but also provides him with a platform from which to bring attention to important issues.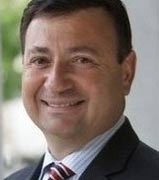 Jerry Iannece
Jerry Iannece's questionnaire
Age: 49
Occupation: Partner, Iannece & Calvaca
Education: NYU (Undergraduate); St. John's University School of Law
Candidate website: www.jerryiannece.com
In what he says is a progressive move from his work in the community, Jerry Iannece is running for office because he believes he can build upon his involvement in the district for the better.  If elected, one of his top priorities would be to work for fair and reasonable development in a district where overdevelopment is a growing issue.  On education, he believes that the old school boards worked well in the area, and that the change to mayoral control has resulted in overcrowding and excluded many parents from the process.  He also believes that there needs to be an end to no-bid education contracts.  Mr. Iannece also sees public safety as a top priority, and believes that the district has too few police officers and needs a new police precinct.  As a councilmember, he would use his role to bring attention to the issue, and work to use space within the police academy in the district to place a precinct there.  As chair of the local community board, he said he is also intimately familiar with the need to improve quality of life in the district, and worked on issues like street cleaning and tree pruning, signaling that community residents turned to him when the current councilmember did not respond to their inquiries.
On government reform, Mr. Iannece says there needs to be much greater transparency, and believes that even the appearance of impropriety is significant and the reason why more disclosure from councilmembers and their families is needed.  He also supports limiting the power of the speaker, however, he would be opposed to limiting the number of committees in the council, unless it could be shown that a particular one was ineffective and wasteful.  He would be supportive of removing stipends for committee chairs, and believes councilmembers should take the position more for its prestige than compensation.  On term limits, he said the recent extension process was arrogant.  With regards to discretionary funding Mr. Iannece does not see them as an inherently bad, but said that there needs to be total disclosure to prevent people from breaking the law.  Mr. Iannece believes his strong community roots make him the best candidate to get to work on the issues right away and Citizens Union was impressed by what he brought to the race.
Debra Markell
Debrah Markell's questionnaire
Age: 49
Occupation: District Manager, CB2; Queen's Director, Mayor's Office
Education: CUNY
Candidate website: www.debramarkell.com
Debra Markell ran for this seat in 1997 and since then has worked under former Mayor Rudolph Giuliani and under current Mayor Michael Bloomberg as a district manager in Queens.  She is running because she wants to continue the work she has done as a director helping people in her district, in a different capacity as a councilmember.  She emphasizes her experience with dealing with many constituent issues, and her long history working in government.
If elected, she would push for increased involvement of parents in education, and would also strongly advocate that curriculum include art and music education.  Ms. Markell is supportive of the idea of placing another precinct for the district in the existing police academy.  She also cited maintaining senior services as an important issue, and said one idea would be to allow multiple food vendors to bid on contracts for food delivery programs, since the current program has been dramatically reduced from once a day deliveries to once a week, and would be delivering frozen meals as opposed to hot food.  She would also focus on securing preventative healthcare services for those in need in the district, and in particular yearly mammograms for women.
On government reform, Ms. Markell said the recent term limits vote should have gone back to the voters and is supportive of a more independent Civilian Complaint Review Board.  With respect to the discretionary funding issues, she said that the request for proposals process should be fairer and that she would be hesitant to give money to start-up organizations as this does not allow them to find their footing on their own and build a proven track record.  She believes member items should have a role for the community in deciding what gets funded, and that this may be an opportunity for community boards to be involved.  In addition, the city should have a website with all the information about member's discretionary funding online.  Ms. Markell knows her district well, and has a wealth of experience with constituent issues, and while her knowledge and commitment to overall policy seems less clear, she appears genuinely interested in improving her community.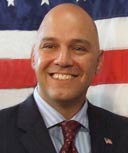 Paul Vallone
Paul Vallone's questionnaire
Age: 42
Occupation: Attorney, Vallone & Vallone, LLP
Education: St. John's Law School
Candidate website: www.paulvallone.com
Paul Vallone, son of former City Council speaker Peter Vallone Sr. and brother of current Councilmember Peter Vallone Jr., says that he was brought up instilled with the values of community service, and that is why he is running for office. He believes he can unite what is growing into a very diverse district.  Mr. Vallone, an opponent of term limits, believes eight years in office is too little time to tackle many issues. He, however, did not support the recent term limits change made by the city council last year.  He said that any changes should have been changed through a referendum, and would support a referendum to abolish term limits altogether.
Mr. Vallone's top priorities, if elected, would be the economy, tempering overdevelopment, and public safety.  He said that the district holds some of the largest employers in the city, and he would work with them to try and increase employment.  He also wants to maintain the character of the district, particularly as a highly residential district.  He would work with the community board and the council to prevent overdevelopment, like the current project in College Point, where according to Mr. Vallone, there is too much commercial traffic into the district that poses safety issues, especially of children.  In addition, the plan did not include any public transportation, something that is severely lacking in the district.  Mr. Vallone is also concerned with public safety, and expressed disappointment that when the city needs more police officers around the city they are pulled from the two precincts in the district, because of the area's low crime rates.  On the issue of education, Mr. Vallone would like to see more parental, teacher and community involvement in the current system, but maintains that mayoral control is a huge improvement from the old Board of Education, and would like to see greater city rather state control over the city's schools.
Mr. Vallone believes that the city council needs substantial reform. He would be supportive of providing committee chairs with more independence and believes that councilmember discretionary funding should be allocated more fairly.  He recommended a possible solution of establishing a minimum and a maximum amount of money that all districts can receive in the form of member items.  Mr. Vallone also supports greater transparency and would recuse himself from decisions in which he personally, or his family, has a vested interest.  He believes the council is a full time position, and while it is tough to eliminate all conflict of interest, every possible conflict must be disclosed. Mr. Vallone said he is the right choice for the office because of his consistency and roots in Queens and his ability to work within the system to bring parties together to move projects forward.