City Council District 19
Endorsed Candidate
Kevin Kim (D, WF)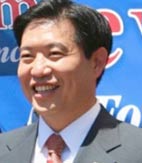 Kevin Kim's questionnaire
Age: 39
Occupation: Deputy Director of Community Affairs, U.S. Representative Gary Ackerman
Education: Stanford University (B.A. & M.A.); Columbia Law School (J.D.)
Candidate Website: www.votekevinkim.com
Kevin Kim's top priorities if elected to office would be to focus on education and investigate the use of private partnerships as an additional source of revenue for classrooms and after-school programs, keep the character of the district's neighborhoods in tact by curbing overdevelopment, and push the city to do a better job of informing small businesses about the regulations relevant to them to avoid fines for violations.  Committed to reform, Mr. Kim said that he would be an advocate for strengthening the power of committee chairs and ensuring full disclosure of any conflicts of interest for councilmembers in response to the recent discretionary funding issue.  Citizens Union supports Mr. Kim because of his experience and knowledge of government and his support for good government reform.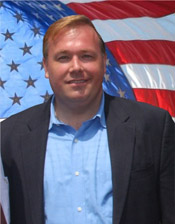 Daniel Halloran (R, C, Independent/Libertarian)
Daniel Halloran's questionnaire
Age: 37
Occupation: Attorney, Palmieri, Castiglione & Halloran P.C.
Education: St. John's Law School (J.D.)
Candidate website: http://www.electdanhalloran.com/
If elected, Mr. Halloran, who has been cross-endorsed by the Republican, Libertarian, Conservative and Independence parties, said his top priorities would be eliminating the top-down educational review system created by mayoral control and finding more ways to engage parents in the system, eliminating the bureaucratic waste in the system, especially by getting rid of the school construction authority, and reevaluating the work of the Board of Standards and Appeals. With respect to reform issues, he would work to build a coalition of twenty-six councilmembers to move forward meaningful reform of the discretionary funding process to make it more transparent, as well as term limits reform.  While Citizens Union believes that Mr. Halloran would be an effective representative if elected, the organization believes that Mr. Kim's positions on the issues and reform-minded approach are more consistent with advancing the organization's priorities.