★ENDORSED CANDIDATE★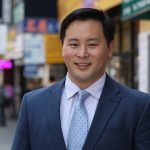 RON KIM – DEM
Age: 35
Occupation: Member, NYS Assembly  Education: Hamilton College (BA); Baruch College National Urban Fellow (MPA)
Candidate Questionnaire
Campaign Website
Campaign Finance Filings

Ron Kim has been a member of the assembly since 2013, and has served more than 18,000 people in his district office, providing him a good understanding of the needs of his community. He believes that government needs to be effective and efficient. His top issues are education, open data, and healthcare. Kim believes that students from all communities should have access to good schools and that assessments should not be dependent solely on standardized tests. On reform issues, he is extremely passionate about open data and transparency, working with civic hack groups and pushing for more accessible data. He has been working on a data aggregation bill to more accurately capture information of constituents and their needs. On transparency and accountability in the state legislative and budgetary processes, Kim states there is a lack of performance measurement and reviews of allocations for local services, and that an introduction of such measures would be an incentive for leaders to do better for their constituents. Kim supports campaign finance reform and believes that once it is tackled, there would be less incentive for bad behavior by legislators. He does not oppose outside income, but suggests that income sources be vetted for conflicts of interest. He believes other underlying issues need to be addressed to better root out corruption. Kim also spoke about ethics reform, stating that the rules are clearly laid out but the problem stems from a lack of oversight. Citizens Union appreciates Ron Kim's leadership on open data and his thoughtful approach in addressing corruption, which is why we endorse his re-election.
PHIL GIM – REP
Campaign Website
Campaign Finance Filings
Has not returned questionnaire.  
Candidate could not be scheduled for an interview.