City Council District 51
Endorsed Candidate
Vincent Ignizio (R, C, I)


Vincent Ignizio's questionnaire
Age: 34
Occupation: Councilmember since 2007
Education: Rider University (B.A.)
Campaign website: http://vincentignizio.com/
Vincent Ignizio, a former state assemblymember and current first-term councilmember, is seeking reelection because there is still more he would like to accomplish.  If reelected he would focus on improving transportation, advancing the clean-up of the Brookville land fill, securing more space for classrooms, enhancing recreational facilities in the district, and removing an unused liquid nitrogen gas tank in the district.  With regard to Citizens Union's agenda, Mr. Ignizio would advocate for increased transparency related to discretionary funding and more severe penalties for those who are caught and convicted of fraud.  Mr. Ignizio is Citizens Union's endorsed candidate because of his experience, accomplishments, and independent record and hopes that if reelected will work to be a leader on government reform issues.
Janine Materna (D, WF)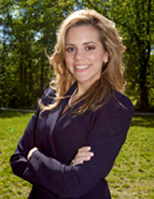 Janine Materna's questionnaire
Age: 26
Occupation: Consultant, Deloitte Consulting LLP
Education: Columbia College of Columbia University
Campaign website: http://www.janinematernaforcitycouncil.com/
Janine. Materna is running for office because she believes that the incumbent councilmember has been largely absent on many of the issues important to the district. If elected she would work to improve transportation with the expansion of express bus service, provide services and support for special needs children and their families, and push for the implementation of environmental initiatives, like the clean-up of the Brookeville land fill, with she believes is part of many of the residents' health issues.  While supportive of much of Citizens Union's reform agenda, Ms. Materna seemed less familiar with how the council operates.  While Ms. Materna is an energetic, bright, and well-intentioned candidate, it appeared that she was not as familiar with the intricacies of many of the issues with which she discussed and the internal operations of the council which would put her at a disadvantage if elected.